RELEASE DATE: 30 NOV 2015
CATALOG #: US CD-147
BARCODE: –
FORMAT: DIGI CD
STYLE: PROGRESSIVE METAL
Line-up:
Fabio Punchina: Vocals
Fabio Ingegneri: Guitars
Francesco Bellan: Bass
Mattia Piva: Drum
Mirco Mandruzzato: Keyboards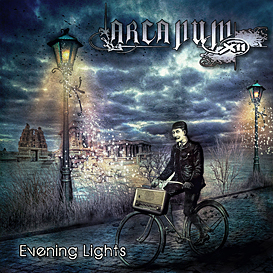 Tracklist:
1. Intro
2. Why
3. Inside Your Head
4. Every Day Is The Same Day
5. My God
6. When A Man
7. Seven (feat. Atena Baurus)
The Italian band plays a prog metal with great vocals melodies, exciting atmospheres and  class arrangements. "Evening Lights" was recorded, mixed and mastered by Daniele Dalla Dea  and it's anticipated by an official teaser, available at the following youtube link: https://www.youtube.com/watch?v=nG4_6_LuwjY.
The Arcanum XII debut album is a masterpiece for fans of Dream Theater, Vanden Plas and King Crimson and it will be available at 30th November under Underground Symphony Records in deluxe digipak edition.