The band was founded in 2009 by Paweł Zasadzki (drums), Tomasz Sałaciński (guitar) and Emil Łazarski (guitar) and played Paweł's compositions – fitting the genre, but very original. Previously named Sentinel, the band changed its name to Lux Perpetua and invited Marcin Nieznański (bass), Marcin Rykiel (keyboards) and Maciej Dzido (vocals).
After some shows, the band split – Maciej Dzido and Marcin Nieznański left. Krzysztof Rutkowski joined as the bass player, and Marcin Rykiel was moved to vocals – the band started to play without keyboards and rearranged their songs. In 2013, Emil Łazarski left the band and was replaced by Mateusz Uściłowski.
In 2014, the band recorded their first EP – Forever We Stand. Then, the guys met Magdalena Tararuj (Meg) who started to play keyboards, and turned out – as Magda is also talented graphic artist, the band selected her to be responsible for all album covers. The same year, in June, on a show in Mechanik club, Rob – current sponsor – listened us and decided to help us to record our first full album – so we selected the songs together and then started to look for a reliable recording studio.
In the middle of the recording, Marcin Rykiel left and was replaced by Artur Rosiński – current singer and frontman. He recorded all the vocals on the Curse of the Iron King, and started to play shows with the band. In the meantime, Lux Perpetua recorded official song for the Metro 2033 universe – Straight Back to Hell, which will be included as the bonus track on the upcoming album.
Curse of the Iron King album is recorded at HZ Studio, Poland. Mastered by Sebastian "Seeb" Levermann (Orden Ogan, Greenman Studios).
Info: www.luxperpetua.net




Line-Up:
Artur Rosiński:  Vocals
Tomasz Sałaciński:  Guitar
Mateusz Uściłowski:  Guitar
Krzysztof Direwolf:  Bass
Magdalena Tararuj:  Keyboards
Paweł Zasadzki:  Drums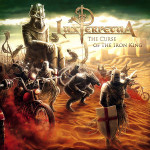 The Curse of the Iron King