RELEASE DATE: 30 OCT 2016
CATALOG #: US CD-159
BARCODE: –
FORMAT: DIGI CD
STYLE: Progressive Rock
Line-up:
Bob Saliba: Lead, Acoustic Guitars & Vocals
Pascal Garell: Bass
Olivier Tijoux: Drums
Franck Capera: Keyboards
François Albaranes: Piano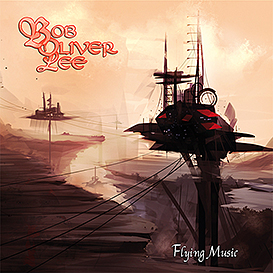 Tracklist:
01. Everything's gone
02. Dead Heart
03. Flying Music (Instrumental)
04. These Wings
05. Thoughts & Regrets
06. River of the Temple (Instrumental)
07. Rising
08. Forbidden Ways
09. Sailors from the Crying Planet
10. From the Pyramid Rises the Flying Spirit of the Pharaoh (Instrumental)
Bob Saliba is an eclectic French musician, also member of Galderia, Stonecast, Debackliner and Ninmah.
Bob has been the leading voice for a project on Ark most famous songs with John Macaluso on drums. In his solo project he is engaged in a progressive rock featuring folk and hard 'n heavy shades.
"Flying Music" is a masterpiece for fans of Yes, Jethro Tull and Ayreon